Retro Bowl College
Retro Bowl College is a spin-off of the Retro Bowl game where players take the role of a head coach, manage a college football team, and make different decisions to take the team to the ultimate prize.
The National Football League (NFL) 2023 season is back! This is the perfect time for American football lovers to experience the heat of the game with the follow-up of Retro Bowl!
What is Retro Bowl College
If you are a football lover, you will definitely know the Retro Bowl, a popular game released in early 2020. It's a perfect match between football and pixelated graphics of the 80s and 90s. The game puts players in the role of a head coach where they must handle different tasks to lead the team to victory.
And now if you are looking for a new breeze, Retro Bowl College will do that for you. It's a sports simulation game developed by New Star Games featuring 250 college football teams! While it was released not too long ago (almost a month), it has rapidly become a phenomenon in the sports games community with its new theme. The game also received good reviews from critics.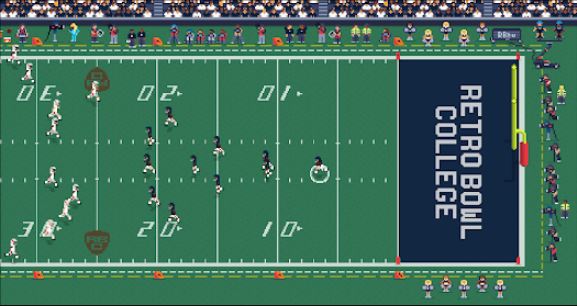 How to play Retro Bowl College
In this game, players can experience being a football head coach. That also means you need to do different tasks and make different decisions to lead your team to become a champion. For example, you have to select your college, control players, battle in the field, handle dilemmas, manage budgets, upgrade facilities, and improve the skills of players.
Recruit, train, and manage players
This version takes players back to the old school. As a head coach, you will have to manage your college football team. It's not an easy task because there are many temptations and distractions in the world of college life. Besides that, they are in a period of rebellion. Try to keep their morale and condition at a good mode.
Keep your eyes on their morale and condition. Players with poor morale can lead to penalties as well as problems off the field while low conditions can lead to injury.
Take them to the field
Of course, this is an exciting part of the game. Control players, aim and throw a ball, run, quarterback sneaks, and score as many points as possible. This requires you to master the controls so that you can move the players and perform the actions that you want. It may take a little while but that makes scoring points become cherishing moments. Try your best to score more goals than the opposite team within an allotted amount of time. Score a touchdown by crossing the other team's goal line with the ball of catching the ball in the end zone. Or score a field goal or earn extra points and safety points.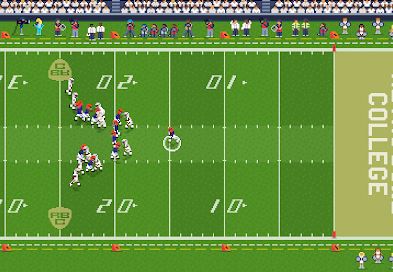 Upgrade facilities and skills
It is important to manage your credits wisely. Use it to upgrade facilities, increase the school rank, level up your team, boost morale, or GPA, and upgrade offensive and defensive coordinators.
Find diamonds in the rough
As a head coach, your job is to guide players, make them shine, and make the Draft. Try to find and nurture hidden pro football superstars so that they can bring you to NFL champion.
Whatever you do, the ultimate goal is to create the greatest Football College team of all time.
Make changes and decisions as a head coach
Every decision you make will affect the team's performance. So think carefully. It is important to adjust the tactics and plans based on the opponents and your current situation.
Game Controls
Use your left mouse button to select and interact.
Drag and hold in the opposite direction of the running receiver to aim. Release to throw.
Use W or S while you're running to perform a side-step.
Click on the Blue circle to hand the ball off to the Running Back.
In order to run with the quarterback, throw the ball backward. When he's running, press the A or D key to slow up or dive.
Click to set the power as high as possible.
Aim down the center of the field and click again to kick.
Game Features
- Different college teams
- Advanced team management
- Different challenges
- Pixelated graphics
- Various team editor options
Game Tips
Building a football dynasty is not gonna be easy. Here are some tips to help you transform your team into the greatest football college team!
1. Recruit and build a strong team. Look for talented players in key positions like quarterback, running back, and wide receiver. Consider their speed, accuracy, and agility.
2. Upgrade facilities. Try to upgrade the gym, training grounds, and medical center to improve the player's development.
3. Manage the team morale. Keep your eyes on the players' morale and address any problems promptly.
4. Make smart decisions. There are different dilemmas that you need to handle. Handle them wisely and make the choice that works best for your team.
FAQs
How to get college football teams in Retro Bowl College?
As you enter the game, you can choose your team in the Favorite Team section. Select the Change button next to the team, browse through available teams, and select your desired college football team.
How many teams are in Retro Bowl College?
The number of teams in the game may vary depending on the game version you're playing.
Some of the college teams featured in Retro Bowl College include:
Crimson Tide (Alabama)
Buckeyes (Ohio State)
Longhorns (Texas)
Trojans (USC)
Wolverines (Michigan)
Sooners (Oklahoma)
Fighting Irish (Notre Dame)
Gators (Florida)
Tigers (LSU)
Seminoles (Florida State)
... and more
How to improve my team's stats and performance in the game?
There are several ways to improve the team's stats and performance. You can train individual players to enhance their skills, speed, accuracy, and tackling. Another option is to recruit talented players to strengthen the team. Besides, it is necessary to upgrade facilities such as the gym, and training grounds. This can lead to improved development. As a head coach, you also need to regularly assess your roster, adjust tactics, and make changes when necessary.
Retro Bowl College brings the American football and NFL season online for free, completely unblocked, and right to your screen. Get ready to create your dynasty and rewrite history.